You can add a video via an embedded link. On the Fix websites it is currently only possible to add videos from YouTube or Vimeo.

If you want to add your own video, you must first upload it to your YouTube or Vimeo channel. The next steps are explained with an example below.
In this example we add a Youtube video to our site.
Step 1
You go to the Youtube video to get the embedded link. This is done via "share".

Step 2
You click on "embed" and then copy the full code.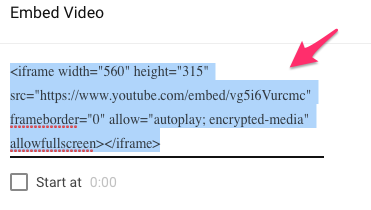 Step 3
You go to the content of the page where you want to add the video.
Below the content you change the text formatting from Full HTML to Plain text.

Step 4
You place the embedded link in the content.

Step 5
Beneath the content you change the text formatting back from Plain text to Full HTML.

Step 6
You click on "save". The video has now been added to the page.
If it does not work this way, do not hesitate to contact us.
This can be done by mail to
support@dropsolid.com
or by telephone on 09/395.02.92.